Massive solar eruption hits earth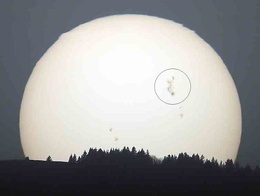 David Tremblay of Alto, New Mexico, photographed sunspot without using a telescope.
A massive coronal ejection (solar flare) hit earth today, with weaker than expected impact.
Spaceweather.com reports that the impact could intensify in the coming hours:
HUGE SUNSPOT: Active sunspot AR1429 continues to grow. It is now more than seven times wider than Earth, which makes it an easy target for backyard solar telescopes. In fact, yesterday, David Tremblay of Alto, New Mexico, saw it using no telescope at all. All he needed was a dust storm:
"The dust blowing from Tularosa Basin was so dense, we could observe the sun with the naked eye--and there was sunspot AR1429. Wow!" says Tremblay.
The behemoth spot has unleashed four strong flares since it emerged on March 2nd, including the X5-class eruption of March 7th. More could be in the offing. The active region has a "beta-gamma-delta" class magnetic field that harbors energy for additional X-class eruptions.
Intense solar activity poses threat to nation's electric grid. Read more on UFOGRID.