Heavy traffic at space station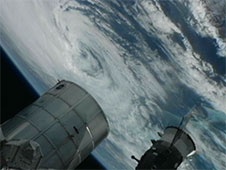 Hurricane Sandy was viewed from station cameras in the Bahamas off the East coast of Florida. Credit: NASA TV
New crew arrives, Dragon to depart and fresh cargo load on the way to International Space Station.
Friday was Expedition 33's first full day together as a six-member crew. Commander Suni Williams and Flight Engineers Aki Hoshide and Yuri Malenchenko welcomed new Flight Engineers Kevin Ford, Oleg Novitskiy and Evgeny Tarelkin after they docked Thursday at 8:29 a.m. EDT. 
Dragon, the world's first commercial cargo craft to visit the International Space Station, will be unberthed and released from the Harmony node Sunday morning. Williams and Hoshide will monitor the Dragon as ground controllers use the station's robotic arm Canadarm2 to grapple the cargo craft. After its release, Dragon will return to Earth and splashdown in the Pacific Ocean for recovery off the coast of southern California. NASA TV coverage begins Sunday at 7 a.m. EDT. 
Dragon Operations Schedule for Sunday (all times EDT and subject to change)
•7:00 a.m. – NASA TV coverage begins
•7:55 a.m. – Dragon unberth
•9:26 a.m. – Dragon release
•2:28 p.m. – Deorbit burn
•3:20 p.m. – Splashdown
Russia will conduct its second same day launch and docking of a Progress resupply vehicle to the station early Wednesday. The ISS Progress 49 launch is scheduled for 3:41 a.m. with docking occurring after just four orbits or approximately six hours later. 
On Thursday, Williams and Hoshide also will conduct a spacewalk to repair a port-side radiator ammonia leak. The duo will translate to the farthest side of the port truss structure at the P6 truss for the complex repair work. NASA managers at Johnson Space Center held a briefing Friday afternoon to discuss the 166th spacewalk in support of station assembly and maintenance. 
Malenchenko joined his new crewmates on Friday for crew handover tasks and later teamed up with all the crew members to review their emergency roles and responsibilities. Also, Malenchenko worked on Russian science and maintenance tasks. 
Aside from crew orientation tasks and Dragon and spacewalk preparations, Expedition 33 had a busy day working with numerous science and medical payloads. 
Williams installed hardware for an experiment that measures radiation fields inside the station. She also finished work on research that controls an Earth-bound rover from space. She then terminated microbial growth in science hardware that will be returned to Earth inside the Dragon capsule. 
Ford and Hoshide teamed up to inspect the Automated External Defibrillator (AED). The AED is used in the event of a life-threatening cardiac arrhythmia. Hoshide also sampled water for the Aquatic Habitat housing the Medaka fish. Ford then set up camcorders for the Elite-S2 experiment. That study analyzes a crew member's motion to investigate the connection between brain, visualization and motion in the absence of gravity.