First ever comet lander goes quiet.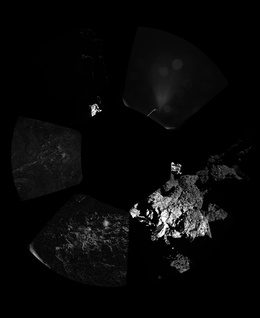 The first panoramic image from the surface of a comet shows a 360° view around the point of final touchdown. Credit: ESA
The historic Philae comet lander run out of battery power and has put itself to sleep, perhaps forever.
Mission controllers at the European Space Agency (ESA) announced that the lander went dead after 56 hours, and that it was able perform several science experiments and relay the information to Earth before shutting down.
ESA is calling the abbreviated lander's mission "a great success."
The short life of the lander is attributed to Wednesday's troubled landing on the distant comet. Landing rockets and harpoons designed to anchor the lander to the surface failed to work, causing the Philae to bounce nearly a half mile into space before touching down two more times and coming to rest in a dark hole shadowed from the sun.
The lander's solar panels were not able to get enough sun to keep the lander's batteries charged and automatically switched into a hibernation mode as its batteries ran out. ESA was able to lift and rotate Philaes's solar panels 35 degrees toward the sun in hopes that it may help down the road as the comet shoots through our inner solar system.
But hope is slim that the lander will see more sunshine as the comet 67P/Churyumov–Gerasimenko hurls tower sun at over 40 thousand miles per hour. It is more likely that the lander will not receive sufficient solar energy and won't reactivate.
ESA said that all 10 of the probe's science experiments operated during the lander's short life on the comet, including a drill that took samples from the beneath the surface.
Controllers will keep an ear out for signals from the Philae, just in case. Meanwhile, Rosetta, the mother ship that delivered the washing machine-size Philae to comet 67/C-G remains active, sending much data about the comet from its close orbit. Rosetta is designed to send data back to Earth through the end of 2015.