Fireball explodes over South Carolina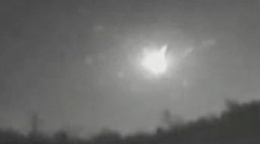 Fireball explodes and crashes in South Carolina
A bright, bluish-white colored object streaked across the South Carolina sky on Monday, February 13, 2012, then exploded and crashed, according to witnesses.
A local 911 call center in Spartanburg received more than 30 calls from alarmed residents.
The huge light was recorded by security cameras.
An astronomer at Greenville's Roper Mountain Science Center was delighted by the sighting.  
Calling it a bolide meteor, Dr. Charles St. Lucas told a local FOX TV affiliate, "A bolide is a meteor that comes in, heats up and this one broke apart into three or four pieces, and glowed a bright blue-white."
The crash site of the object has not been found.
See video of the fireball in FOX Carolina's news report: