Final, historic landing for Shuttle Endeavour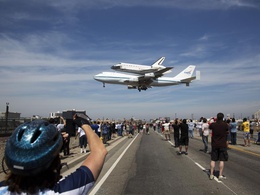 The space shuttle Endeavour, atop the Shuttle Carrier Aircraft, lands at Los Angeles International Airport. Photo Credit: (NASA/Matt Hedges)
A trail of excitement traveled across California and under the path of Space Shuttle Endeavour's final flight today.
The youngest and last shuttle to fly was delivered piggyback style to Los Angeles International Airport by a NASA transport plane, on its way to a local science museum.
The site of the winged space ship thrilled both young and old. Elementary school kids on Santa Monica beach jumped with joy when they spotted their first and last ever space shuttle flight.
Some older adults felt bittersweet about seeing the spectacular close of a dramatic, thirty year-long pioneering age of reusable space planes that rocketed work crews to low earth orbit and glided back to earth. The Endeavour orbiter went to space 25 times and travelled over 122 million miles.
Endeavour was ordered by NASA to replace Shuttle Challenger, which exploded just after a controversial, cold temperature launch in January, 1986.  Endeavour was assembled with spare parts from the four previously built shuttles to save money, but featured many upgrades over the original fleet.  
Endeavour's missions included repair stops at the Hubble Space Telescope and other satellites, delivering International Space Station Modules to orbit and visiting the Soviet Space Station MIR.
From NASA:
Space shuttle Endeavour, perched atop NASA's 747 Shuttle Carrier Aircraft landed at Los Angeles International Airport (LAX) at 12:51 p.m. PDT Friday, ending a cross-country ferry mission and returning to its place of birth, California.
Endeavour was NASA's fifth and final space shuttle to be built. Construction began on Sept. 28, 1987 and it rolled out of the assembly plant in Palmdale, Calif. in April 1991. It was named after a ship chartered to traverse the South Pacific in 1768 and captained by 18th century explorer James Cook. Endeavour flew 25 times, traveling more than 122,000 miles and accumulating 299 days in space. Like shuttles Discovery, Enterprise and Atlantis, Endeavour is embarking on its next mission – to inspire the next generation of explorers and engineers at the California Science Center.
Endeavour will be removed from the SCA using an elaborate set of cranes and wind restraints. It will be placed on a special transportation system and moved into a United Airlines hangar, where it will remain for several weeks while final preparations for its transport and display are completed.