Evolution of the Moon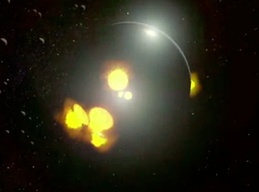 The moon has taken its share of cosmic hits.
The moon formed over 4 billion years ago.  Now, you can see how it has changed ever since its creation in less than three minutes.
NASA's Lunar Reconnaissance Orbiter (LMO) has gathered new data, developing a clearer understanding of how the moon has evolved. 
The moon has endured a violent history.  Our closest celestial neighbor has been continuously bombarded by space rocks, forming the familiar, crater-pocked face that we observe today. 
NASA released a video montage recreating the evolving moon this week, and it is extraordinarily popular.  The YouTube posting has been viewed nearly two million times.
See the moon's multi-billion year evolution, as postulated by NASA, in under three minutes.