DragonX splashdown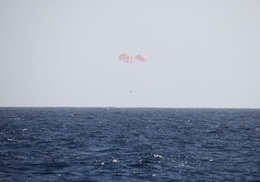 The Dragon X landed right on target in the Pacific Ocean about 200 miles southwest of San Diego, CA.
The SpaceX Dragon spacecraft successfully splashed down in the Pacific Ocean at 12:36 p.m. EDT on Tuesday, a few hundred miles west of Baja California, Mexico.
The Dragon returned from the International Space Station with garbage, food production experiments and fluid samples from the crew members to help study the effects if long term space travel on humans.
The samples returned frozen as planned. In a previous mission, the freezer unit failed during its return to earth.