Dragon Splashdowns to Earth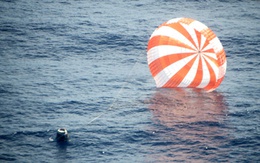 Dragon spacecraft in Pacific Ocean after splashdown.
The SpaceX Dragon cargo craft spashed down in the Pacific Ocean at 3:22 p.m. EDT Sunday about 250 miles off the coast of Baja California, Mexico, marking a successful conclusion to the first contracted resupply mission to the International Space Station. 
The Dragon capsule will be taken by boat to a port near Los Angeles, where it will be prepared for a return journey to SpaceX's test facility in McGregor, Texas, for processing. Some cargo will be removed at the port in California and returned to NASA within 48 hours. This includes a GLACIER freezer packed with research samples collected in the orbiting laboratory's unique microgravity environment. These samples will help advance multiple scientific disciplines on Earth and provide critical data on the effects of long-duration spaceflight on the human body. The remainder of the cargo will be returned to Texas with the capsule. 
The ground team at Mission Control Houston remotely commanded the station's robotic arm to uninstall Dragon from the Earth-facing port of the Harmony node at 7:19 a.m. after Expedition 33 Commander Suni Williams removed the bolts and latches of the Common Berthing Mechanism that had secured the cargo craft to the station since Oct 10. 
A set of programmed commands to Canadarm2 then maneuvered Dragon out to the 15-meter release point, where Williams and Flight Engineer Aki Hoshide ungrappled Dragon at 9:29 a.m. and backed the arm away. 
Dragon delivered 882 pounds of supplies to the orbiting laboratory, including 260 pounds of crew supplies, 390 pounds of scientific research, 225 pounds of hardware and several pounds of other supplies. Dragon is returning a total of 1,673 pounds, including 163 pounds of crew supplies, 866 pounds of scientific research, and 518 pounds of vehicle hardware and other hardware. 
Dragon launched atop a Falcon 9 rocket Oct. 7 at 8:35 p.m. from Cape Canaveral Air Force Station in Florida, beginning NASA's first contracted cargo delivery flight, designated SpaceX CRS-1, to the station. 
The mission was the first of at least 12 cargo resupply missions to the space station planned by SpaceX through 2016 under NASA's Commercial Resupply Services contract.