Dragon splashdown in Pacific Ocean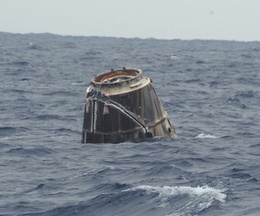 Dragon awaits recovery on Pacific Oceans off Baja California. Credit: Space X.
The first commercial space mission to the International Space Station successfully returned to earth this morning at 8:42 am. PT.  
Space X's Dragon capsule splashed into the Pacific Ocean only one mile from its intended target, and 560 miles off the west coast of Baja California.
Space X founder, Elon Musk heralded the historic flight as a, "grand slam."
Recovery crews quickly reached the floating capsule and reported that it "looks really good."
The craft returned with about 1300 pounds of cargo from the space station, including science experiment samples, research items and trash.
The craft will be placed on a barge and towed to Los Angeles, where Space X is based.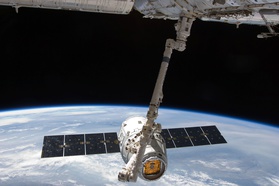 The space station's robotic arm released Dragon at 2:35 am, PT. A thruster rocket pushed the capsule away from the station, beginning the approximate 6 hour plunge to earth.
Parachutes slowed the craft's descent into the ocean, in the same way that U.S. space ships returned to earth before the age of the reusable space shuttle.
Space X is contracted to deliver a minimum if 12 flights to the space station.  Following today's successful test mission, the Dragon could go into full, low earth orbit delivery operation by the end of the year.
Space X is developing a larger, heavier weight rocket system with double the cargo capacity of the retired space shuttle, and hopes to build a manned spacecraft capable of sending crews to Mars.