Commercial era of spaceflight launches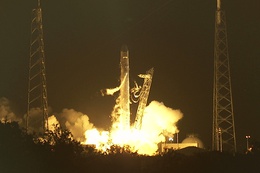 The Falcon 9 Booster lift-off from Cape Canaveral's launch pad 40.
The Falcon 9 booster rocket carrying the Dragon space freighter successfully launched into space this morning, on its way toward a historic rendezvous with the International Space Station. 
Dragon is the first commercial spacecraft to journey to the space station, delivering about 1200 pounds of food and supplies to the crew.  The highly anticipated mission fills a gaping hole in the United State's launch capability following the retirement of the Space Shuttle program.
Currently, the United States has no operational manned launch system, and is dependent on Russia for access to the space station.
If all goes to plan, the commercial space industry will begin ferrying astronauts to the space station in 2017.
Dragon will fly within 30 feet of the space station, where the station's robot arm will grab the ship and dock it to the station for a cargo transfer. 
The craft will remain berthed to the station for three weeks.
The crew aboard the station will load science experiments onto the Dragon for return to earth, with a parachute water landing planned off the California coast.
 If successful, the re-usable unmanned vessel will begin regular supply runs to the space station later this year.
NASA signed a $1.6 billion contract with SpaceX for a minimum of 12 re-supply missions.  SpaceX was founded by Elon Musk, who made his fortune with PayPal, the internet's leading payment system.  Musk's other day job is running Tesla Motors, a manufacturer of electric vehicles.