Curiosity discovers possible water lake beds on Mars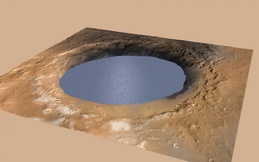 Illustration depicting a possible lake in the Gale Crater on Mars, with the water flowing from snow melting on the northern rim of the crater. Credit: NASA/JPL-Caltech.
There may once have been water lakes on Mars.
That's the current thinking at NASA, as the Curiosity rover begins its climb of the three mile high Mt. Sharp inside the large, Gale Crater on Mars.
Rock layers and sediment suggest to geologists that there was once a standing lake where Curiosity is roaming.
If the theory s confirmed, it would upend the current thinking that Mars only had short-lived, underground lakes.
If there were standing lakes on the surface of Mars, it would mean that the red planet once had a warm and heavy atmosphere more hospitable to life.
Curiosity is continuing to gather data that scientists hope will lead to a conclusion on whether there were water lakes on Mars in the coming ext year.
This video offers details and illustrations: