Comet lander sends first pictures from surface - but may be dead by Saturday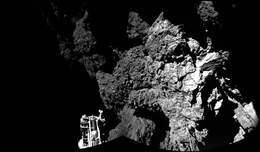 Rosetta's lander Philae is safely on the surface of Comet 67P/Churyumov-Gerasimenko, as these first two CIVA images confirm. One of the lander's three feet can be seen in the foreground. Credit: ESA
The first lander on a comet is already sending unique data back to Earth, but its life may be soon snuffed out by darkness.
The European Space Agency said today that there Philae probe had a rough landing after all, due to malfunctions and eventually dropping into a bad luck parking space on comet 67P/Churyumov–Gerasimenko.
When the lander descended onto the 2.5 mile wide rock almost exactly where planned, the comet's near lack of gravity caused the Philae to "bounce" off the surface and over a half mile up before falling slowly back to the surface and bouncing off a second time.
The craft was designed to spike the first landing by using rockets to "push" the craft against the surface while anchoring harpoons were fired into the comet. Then, screws on each on the lander's three legs were to be drilled into the surface to further secure the craft to the comet. However, both the rockets and the harpoons failed to work.
The craft stayed put on the third touchdown but in a place that mission controllers have yet to find. They are looking for Philae from the orbiting Rosetta spacecraft that deployed it. Mission Control knows that Philae's position is "not too close" to where it was aimed and that it landed off center and in a nearly vertical position. One of the lander's three legs is entirely off the ground and extended into space.
Mission specialists are wary of using the drills to secure the legs, for fear of tipping over the lopsided lander on to its side. In fact, ESA does not want to use any of the mechanical experiments for fear of tipping Philae over and jeopardizing the entire ground mission.
The final resting place presents several serious threats to the craft's operating life.
Philae is solar powered and its solar panels are now only exposed to the sun's energy 1.5 hours a day instead of the planned 6.5 hours a day. Mission controllers are concerned that the lander's batteries may not be able to recharge after they run out of juice on Saturday. The lander is designed to go into hibernation mode when its batteries are depleted and then wake up again when recharged, but scientists question if that will ever happen.
In the meantime, Philae is sending back spectacular data from the comet's surface including photographs of an overhead cliff.
Scientists are trying to keep the public's perspective on the success of a first time landing on a comet, calling the mission far from a failure, with much valuable data already sent back to Earth.
Jean-Pierre Bibring, Rosetta mission scientist said, "It's gorgeous where we are."