Chinese crew first to dock with module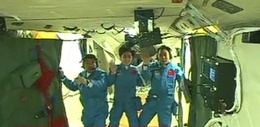 First Chinese space crew aboard orbiting module
The crew aboard China's Schenzou 9 spacecraft successfully completed the nation's first docking with the Tiangong 1 orbiting module this week.
The crew, which includes China's first woman astronaut received a congratulation call from Chinese President Hu Jintao, according to lock news reports.
The astronauts are reportedly in good spirits as their 13 day mission winds down.
China plans to build a larger, 60 ton space station by 2020.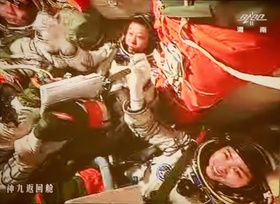 China's space crew docks in space for first time