China launches their longest manned flight yet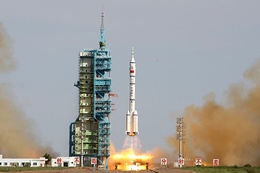 Shenzhou-10 launched from China's Gobi Desert.
China launched it's longest manned space flight to date today, sending three astronauts on a 15 day mission to the Tiangong 1 "Heavenly Palace" orbiting space laboratory.
The Shenzhou-10 rocket successfully launched the astronauts from the Jiuquan space center in the Gobi Desert at 9:38 GMT.
The crew, consisting of two men and a woman will conduct science and health experiments aboard the prototypical space station. A larger Chinese space station is planned to go online in 2020.
China President Xi Jinping was on hand to watch the launch, fresh from his California summit with President Obama, signifying the importance of China's emergence as a space power.
XI told the astronauts. "You make all the Chinese people feel proud. Your mission is both glorious and sacred."
The three astronauts, including China's second woman in space, Wang Yaping, 33, waved to cameras inside their capsule as their rocket blasted off.
Wang will teach Chinese schoolchildren from space via television links during their flight.
"We are all students in facing the vast universe. We are looking forward to joining our young friends to learn and explore the mystical and beautiful universe," Wang said at a news conference earlier this week.
Wang is trained as a transport pilot and was part of an effort of "dispelling clouds for the opening ceremony of the Beijing Olympics in 2008," according to the Chinese Space Agency.
China has ambitious plans in space, including landing astronauts on the moon by 2020.