Cargo ship leaves space station to launch satellite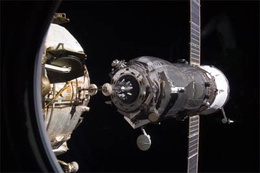 ISS Progress 45 cargo ship
The ISS Progress 45 cargo ship that undocked from the International Space Station's Pirs docking compartment late Monday afternoon is set to serve as a launching pad Tuesday, ejecting an 88-pound mini-satellite named Chibis-M at 6:19 p.m. Chibis-M will spend several years in orbit studying the interaction of plasma waves with the ionosphere. 
At the time of deployment, Progress 45 will be 62 miles above and 7,300 miles behind the station. 
About three hours later, Russian flight controllers will command the Progress to re-enter Earth's atmosphere over the Pacific Ocean, where it will safely burn with its remaining cargo of trash from the station. 
Progress 45 is making way for the arrival of the Progress 46, which is scheduled to launch from Russia tomorrow and carry to the space station three tons of food, supplies and equipment.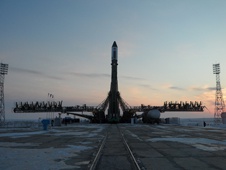 ISS Progress 46 cargo craft on launch pad