Billions of planets could harbor life in Milky Way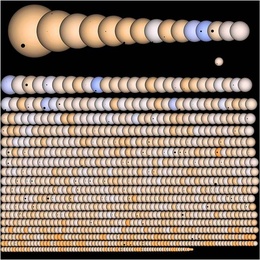 The Kepler Telescope has found billions of potential life-bearing planets in our galaxy.
Earthlings may have neighbors as close as 12 light years away, and plenty more beyond according to a new study based on observations by NASA' Kepler Telescope.
In a survey of 42,000 Sun-like stars scanned by Kepler, 603 planets were found, 10 of which are close to the size of Earth and orbit at about the same distance from their Sun as we do. This "habitable zone" offers conditions where surface liquid water can exist, and essential for life as we know it (see video below).
Erick Petigura at California's University of Berkeley led the study, entitled "Prevalence of Earth-size planets orbiting Sun-like stars." The planets were detected by creating "synthetic, planet-caused dimmings into Kepler brightness measurements."
The process revealed a finding which predicts that 22%, or 1 in 5 of the estimated 200 billion Earth-like stars in our Milly-Way galaxy may harbor Earth-size planets orbiting in habitable zones.
That adds up to about 40 billion planets nestled in potential life-bearing "godilocks" zones our galaxy.