Astronaut's golden anniversary of first orbit
Astronaut John Glenn in a state of weightlessness during Friendship 7 flight.
NASA is celebrating the 50th anniversary of John Glenn's historic first earth orbital flight for the United States.
The Soviet Union had already sent the first man into orbit, and the space race was well underway.
The US-Soviet "Space Race" was a politically motivated, open checkbook program during the cold war.  Ostensibly, it was a race to send humans to the moon, but a darker motivation was the desire to reign supreme in the heavens, at a time when nuclear missile tipped intercontinental missiles were a new concept, and the threat of an all out nuclear war was very real.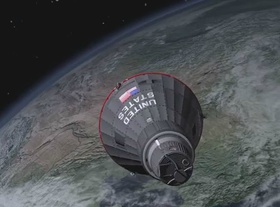 Space was the new frontier, and the world's two major superpowers were determined to rule the skies.
The result was a stunning leap in human development.  The civilian space program sent people off planet for the first time, and the experience completely changed our view of the world, giving birth to "whole earth" environmental movement in the 1970's.
NASA celebrates the beginning of the US manned space program, and John Glenn's historic flight on their website.