Voyager 2 leaves the sun forever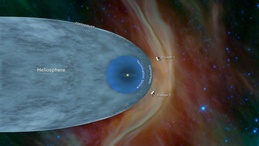 The Voyager spacecraft are the farthest out there.
For the second time in history, a man made object has ventured into interstellar space. NASA's planetary probe, Voyager 2 is now more than 11 billion miles from Earth. It burst through the Sun's protective bubble, called the heliopause on November 5.
It is where the sun's hot solar wind meets the dark space between other stars, known as the interstellar medium.
Voyager 2 and its sister craft, Voyager 1 were launched in 1977, and each made spectacular flybys of Jupiter and Saturn and their many moons. Voyager 2 continued on to Uranus and Neptune and provided a first and only close up look at the outer planetary system.
Remarkably, they still transmit useful scientific information back to Earth.
Voyager 1 entered interstellar space 6 years ago, but the Plasma Science Experiment (PLS), an instrument used to measure the sun's influence failed in 1980. The PLS on Voyager 2 is still working and sending data home. It will send the very first observations of this uncharted territory where the sun's energy is fully diminished.