UK Officials: UFO flew "within feet" of airliner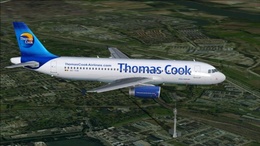 Thomas Cook A320 Airbus and UFO flew "within feet" of each other.
British aviation officials have concluded that an airliner experienced a near miss "within feet" of a UFO in the skies over England in 2013.
An Airbus A 320 with seating for up to 180 passengers was on a flight to northern England from Spain's Ibiza Island when the daylight incident occurred on July 19, 2013, over Reading, UK. Thomas Cook Airlines flight # TCX24HX was flying to Manchester International Airport.
The flight Captain reported that a UFO shaped like a "rugby ball" shot by the aircraft at 6:35 PM as the jet was flying 516 mph at an altitude of 34,000 feet.
The Captain told investigators for the UK Airprox Board, the government agency charged with investigating near misses in British airspace, that he spotted the UFO rapidly approaching through the left cockpit window on what appeared to be a collision course.
The investigation's official findings released earlier this month and reported by the UK Telegraph, concluded that, "The Captain was fully expecting to experience some kind of impact with a conflicting aircraft."
The UFO appeared so suddenly that the Captain had no time to react or even notify his First Officer flying along side of him. He told investigators that his immediate reaction was to "duck to the right."
The Captain told officials that the object flew within a few feet above his aircraft, describing the craft as "cigar/rugby ball" shaped, bright silver in color and appeared to be made of metallic material.
After the UFO zoomed by the jet, the Captain checked the cockpit instruments, which showed no sign of the flying object on radar. He asked ground controllers about it, who also saw no radar evidence of a near miss.
A subsequent inquiry ruled out other aircraft and weather balloons, which were not in the vicinity at the time of the incident. Smaller balloons were also ruled out as not able to reach the high altitude where the encounter happened.
Military radar data showed no trace of another aircraft near the airbus at the time.
British air traffic controllers receive reports of UFOs an average of once per month, according to a statement made in 2012 by the head of the UK National Air Traffic Control Services.