UFO video taken from KLM airliner.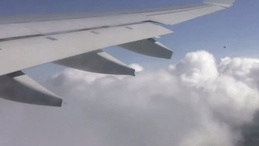 Video of UFO taken from KLM aircraft departing Amsterdam on March, 17, 2012.
A passenger on a KLM flight from Amsterdam to Dallas, Texas, was shooting a video out his window on March 17, 2012, when he captured a fleeting image of a UFO flyby.
The person who posted the video said that he shot the footage with an iphone, and did not notice the UFO image until he viewed it later.
Responding to comments about his video, the poster wrote, "Hi everyone, I never said I caught aliens, but I caught an unidentified flying object (UFO)."
"For me it looks strange, I don't know what it is, maybe a helicopter or a weather balloon?
"Really, I don't know," he added.
Original Post:
On our way from Amsterdam, Netherlands to Dallas we caught an UFO right after departure. I filmed it with my iPhone but first noticed the UFO one day later when I cut the video at home.