UFO disrupts airport in Bremen, Germany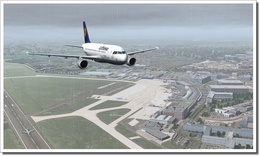 Bremen Airport. Credit: forum.aerosoft.com
A UFO repeatedly spotted on radar and by police on the ground over a three hour period disrupted commercial flights at Germany's Bremen Airport on January 7, 2014.
France based, Euronews reported that air traffic controllers cancelled, diverted and delayed several aircraft during the UFO's appearance between 4:30 and 7:30 PM local time.
German Air Traffic Control (DFS) told local newspaper Weser Kurier, that the object was seen through binoculars by their personnel in the control tower. A DFS spokeswoman said, "It had normal lights, red and green, and an approach light on both sides."
Police are investigating it as a possible case of unauthorized intrusion into controlled airspace by a conventional aircraft.
An eyewitness claimed the object flew over his house four times at an altitude of 100-200 meters. Dominique Höber told Weser Kurier, "It looked like a plane. It had lights but was a lot louder."
Police sent a helicopter to search for the UFO and still don't know what it was.
Similar incidents at other airports have been attributed to man made drones, including a sighting in Saxony on Sunday, January 5.