Three Airline Crews Encounter Multiple UFOs Over Ireland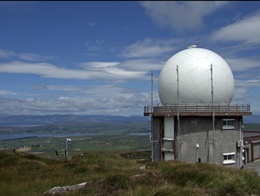 Irish Aviation Authority radar tracking installation
Aviation officials are investigating multiple airline pilot reports of several unidentified flying objects spotted last week over Ireland's County Kerry.
A British Airwaves pilot flying from Montreal, Canada to London's Heathrow Airport contacted Shannon Air Traffic Control on Friday, November 9 at 6:47am local time to ask if there were military exercises being conducted in the area. Shannon Control replied that there were no exercises happening at the time. The pilot had asked because she observed a flying object "moving so fast".
The pilot said that a "very bright light" and the object flew up to along the left side of her airliner and then "rapidly veered to the north".
A Virgin Airways pilot in the area reported that there were very bright, "multiple objects following the same sort of trajectory".
The pilot radioed that he observed two bright lights that flew to the right of his view then took off at a high rate of speed. A third pilot described the speed as "astronomical, it was like Mach 2" or about 1400 mph.
The Irish Aviation Authority is investigating the multiple pilot witness reports.
https://www.youtube.com/watch?v=kulU88RyhCI&feature=youtu.be