Private Jet has near miss with UFO over Denver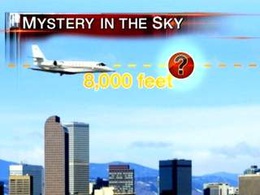 Credit: KUSA, NBC NewsChannel
A corporate jet flying at 8,000 feet over Denver, Colorado reported a near miss with an unidentified flying object on Monday, May 14, 2012.
The  Federal Aviation Administration is investigating the incident, concerned that there may be a safety hazard to aircraft in the area.
The nervous pilot of the Cessna Citation 525 CJ1 radioed to air traffic control, "A remote controlled aircraft, or what? Something just went by the other way ... About 20 to 30 seconds ago. It was like a large remote-controlled aircraft." 
Click to listen to the pilot's radio call:
Possible explanations include a large bird or a military or a law enforcement drone.  Surveillance drones are being deployed by law enforcement over U.S. skies.
The object may be of a more mysterious origin, because it did not appear on radar.
Whether bird, drone or a UFO, the incident raises concerns over air safety in the U.S. skies.