China airliner reports UFO over Canada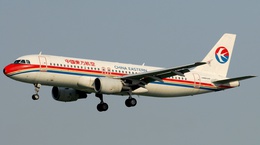 China Eastern Airlines. File photo.
An China Eastern Airlines flight crew reported a UFO sighting while flying north of the city of Alberta, Canada.
Crash-aerien.aero reports the Airbus A340-600 flight MU587, was flying from Pudong International Airport in Shanghai, China to New York's John F. Kennedy International Airport, and was over Canadian territory around the coordinates 58 º N 111 º W, at a flight level 37000 feet, when the pilots reported to air traffic controllers that they observed a UFO about 40 miles southwest of their position at an estimated altitude of 41,000 feet.
No incident date was given.
Air traffic controllers say they have no radar images from that location and no trace of any flight which could explain the presence of the object. 
After several minutes of observation, the UFO disappeared. 
Flight # MU587 continued without further incident and arrived on-time in New York.