Welcome to Out There With Ted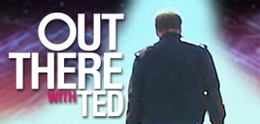 Out There With Ted is a comprehensive news service that shines light on the many shades of gray that encompass the UFO phenomenon and other varieties of "high-strangeness" observed since the beginning of recorded time.
Out There With Ted is committed to employing journalistic standards and common sense to navigate through the murky realms of the unknown, whether they are tantalizing glimpses of UFOs, ancient artifacts or modern day crop circles.
Perhaps it is our survival instinct to fear the unknown that contributes to popular ridicule of the subject. No doubt, it is more comfortable to dismiss the unknown than to reason with it.
Will we confirm non-human, high intelligence in the physical universe or in the dimensions of quantum theory? Out There With Ted looks through the windows of reality, from UFO sightings to ancient mysteries, and provides a range of perspectives that spans from astronauts to shamans.
Out There With Ted is your trusted source of vetted reports on high strangeness delivered to your email address or mobile device every day. Our open database allows you to pick and choose your data, including local sightings.
Out There With Ted reports with humor and healthy skepticism when called for, as many described encounters are ironic and fanciful. We report on many faces of the unknown, from fearful to funny. Our goal is to strip away the irrational layer from the remarkable UFO phenomenon.
We call on leading researchers and the field's brightest minds to help explore the latest developments. Our global editorial news coverage includes compelling daily reports, a human-curated digital reference library, exclusive Out There With Ted features and investigations that draw connections between phenomena not widely known.
Out There With Ted brings you to the frontiers of reality.
Welcome aboard!
Ted Bonnitt, Managing Editor