Crop circles in New Haven?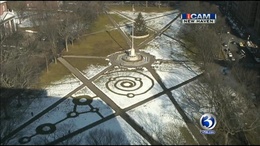 Image of snow scupltrures in New Haven, CT's Green.
Local media outlets in New Haven, Connecticut, have made hay of what was likely an impromptu college art project at Yale University's Green last week.
The story of mysterious "crop circles in the snow" has been picked up by media across the country, during what was obviously a slow news day.
Local TV News crews have reported the from the site of the shoveled snow designs that resemble crop circles found in farming fields worldwide. Keep in mind theses are not crop circles, but rather snow circles.
A leading authority of the global crop circle phenomenon since 1983, Colin Andrews personally examined the mysterious formations carved in the snow. Andrews, now a Connecticut resident, told the New Haven Register that the circle makers were likely pranksters.
"The designs were placed with some accuracy with respect to the monument and the sidewalks in the center of the Green, but the precision of the actual designs lacked preciseness, which has always been evident in the several thousands of unexplained crop circles that I've witnessed in many countries around the planet."
The renowned author and researcher concluded, "This was clearly done by people having some fun."
The Yale University newspaper, Cross Campus, expressed more astonishment with the media attention than with the snow shovel formations. It assured area residents that at least according to one expert, the snow formations are not of alien origin.