Ata was a girl not an alien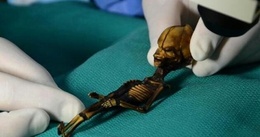 The tiny, bizarre skeleton was discovered 14 years ago in Chile. "Ata" provoked false specuation of being alien.
A new study has confirmed that a peculiar set of tiny remains found in South America and touted by UFO advocate Steven Greer as alien in origin, are indeed human.
Greer centered his 2013 documentary "Sirius" on the premise that the remains, known as "Ata" , were from another world. Genetics experts at Stanford University, where the skeleton was examined disputed Greer's claims from the outset.
The six inch long skeleton was named for the Atacama desert region in Chile where it was discovered 14 years ago in an abandoned mining town.
The study, published today in the Journal Genome Research, confimred that the remains are of a girl who died shortly after birth due to a freakish combination of genetic abnormalities, possibly due to her parents's exposure to environmental toxins associated with the area's mining operations.
The remains indicated that the child suffered from genetic mutations that included scoliosis, dwarfism and musculoskeletal abnormalities.
Stanford professor of microbiology and immunology, Garry Nolan was the first to examine the remains four years ago and suspected they were human from the beginning. Nolan told the Los Angeles Times that the unfortunate child was victim to a "rare — very, very rare" combination of genetic mutations. "which unfortunately was a death sentence."
Nolan said that studying Ata may benefit future research in genetic mutations found in children and help develop prenatal tests to identify genetic abnormalities.