Bigfoot in the backyard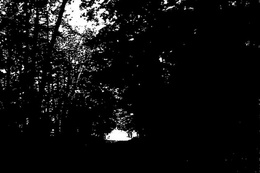 The spooky, tree-covered "Hell's Hollow" may be the stomping grounds of the mythical monster Bigfoot. A Sasquatch-like creature has been spotted three times in the area just off state Route 358 on South Barry Road in West Salem Township.
Whether legend or hoax, a tall, dark and mysterious monster-like creature may call parts of the woodlands in the Mercer County area home.
"He's out there somewhere," said Paul Lucas of Girard, Pa, an advocate for the existence of what skeptics consider a paranormal apparition of American folklore.
Lucas said he works with the Sasquatch Research Initiative and determines whether Bigfoot sightings are legit or simply cries for attention. Over the years, he has studied sightings of the large, hairy, human-like anima1 in western Pennsylvania and eastern Ohio.
Through his work, Lucas said he's seen enough evidence and heard from enough honest people to believe the beast exists in some form or another.
More documented sightings of Bigfoot have been compiled from Mercer County than its surrounding neighbors. A total of six sightings beginning in the 1980s have been accumulated by various research organizations.
While more than 90 sightings have been reported statewide, Lucas said many sightings go unreported by individuals who fear talking about such a myth could bring on unneeded ridicule.
"Many people think seeing Bigfoot will cause their friends to think they're out of their minds," Lucas said.
"It's best to tell your story and let us help you find if what you saw was real," he said, adding that the majority of research organizations accept anonymous accounts to protect the credibility of those who have seen a Bigfoot.
The first documented notice of a Sasquatch in the county is believed to have occurred in the 1980s: A woman riding horseback near the Shenago River Lake in the Clark area heard loud roars that spooked her thoroughbred.. She was too frightened and couldn't catch a glimpse of the creature but claimed the noise wasn't made by a human or animal native to local woodlands.
The most concrete, evidence a Bigfoot creature may have once existed in the northern part the county are three reported sightings in the same vicinity during the mid-1980s.
"So many sightings in one area must mean some kind of abnormal creature is out there," Lucas said.
In the fall of 1984, a group of Boy Scouts was camping at the Greenville Sportsmen's Club on Vernon Road in West Salem Township. The boys walked to a nearby wooded
area nicknamed "Hen's Hollow" on South Barry Road.
The hollow received its nickname because of its spooky appearance. A dense overhead of trees blocks most of the sunlight from reaching the ground. Even the sunniest days in the wooded area are dark and gloomy.
While playing "capture the flag" in the woods, two scouts hiding near a brush pile startled a huge Bigfoot-like animal.
The creature took off running and the boys couldn't catch a glimpse of its face.
About two years later, another man saw the creature in the hollow. While sitting in his parked truck with his girlfriend, the man claims to have seen "a figure of large proportion" walk past.
"I would guess about 7 to 8 feet tall and about 300 or 400 pounds," the man told the Bigfoot Field Researchers Organization.
The creature ignored the truck and kept moving. The frightened man started his truck and left, later realizing his girlfriend didn't see the Sasquatch
Two years later, the same man and a friend were hunting squirrels in the hollow during the fall of 1986. Both saw the creature running up a steep hill.
"It took me about 3 to 7 minutes to cover that hill on less sloping ground," he said "This thing ran up it in about 15 to 20 seconds."
"The guy I was hunting with doesn't believe in Bigfoot and says it must have been a bear," the man told researchers.
"Bears don't, usually move that quick," Lucas said, adding they also are rare for this area.
Another sighting in the hollow hasn't been documented since, but others claim to have spotted Bigfoot lurking elsewhere in the county.
Mercer County Area Bigfoot Sightings
A woman riding a horse during the 1980s said she heard a loud scream and roar near Clark.
A couple living in South Shenago Township, Crawford County, had several encounters with an unseen creature they heard moving through the woods and around their house late at night between 1986 and 1994. Their dog acted strangely when the noises were heard.
Boy Scouts playing "capture the flag" in the fall of 1984 west of the Greenville Sportsmen's Club in West Salem Township bumped Bigfoot in some brush. The Sasquatch took off running at alarming speed.
A man spotted a creature in the fall of 1986 that was about 7 or 8 feet tall and 350 pounds walk in front of his truck on South Barry Road in West Salem Township. The man's girlfriend didn't notice the creature. In the fall of 1988, the same man and a friend were hunting in the area and saw the creature swiftly scale the steep hills of the hollow.
Two men driving home from a football game in November 2001 reported seeing a large brown creature that appeared to be a person striding across Lamor Road in Jefferson Township.
A man driving in May 2003 noticed a dark-colored creature walk across the highway, in front of several vehicles before disappearing into the woods on state Route 60 north of New Castle.
A group of boys reported seeing in November 2003 an 8-foot-tall creature covered in hair on two separate occasions in New Castle. The boys told researchers the creature
smelled like a "wet dog.''
A man claimed to have hit Bigfoot with his car in November 2004 while driving home from work late at night in the Grove City area. The man told researchers he had hair samples, but never consented to an interview.
Sighting Statistics:


• Mercer County: 6 documented; last reported sighting in November 2004
• Crawford County: 3 documented; last heard in 1994 .
• Venango County: No documented sightings
• Lawrence County. 2 documented sightings; last seen in November 2003
• Mahoning County. 1 documented; last reported sighting in August 1972
• Trumbull County: 3 documented; last reported sighting in August 2004
• Ohio: About 190 documented sightings
• Pennsylvania: About 80 documented sightings
Sightings documented by the Bigfoot Field Researchers Association, Pennsylvania Researchers and the Pennsylvania Bigfoot Society.