Truck driver reports run in with towering "Yowie" in Australia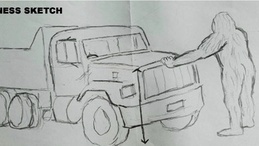 Illustration of reported encounter with 10 foot tall "Yowie." Credit: Dean Harrison/Australian Yowie Research
A truck driver in Australia reported a brief, close encounter with a Bigfoot like creature and said, "It was the worst thing that has ever happened to me."
The 53 year-old witness, identified by only his first name Gary, by the reporting newspaper "Gold Coast Bulletin" said that he was driving in a forested area just south of Brisbane in broad daylight when the 10 feet tall "Yowie" as they're called down under, stepped out of the brush and onto the road in front of his truck.
The truck driver slammed on the brakes and the tall creature "thumped" on the hood of his truck before returning the the dense forest. The witness said the November, 2018 encounter lasted only a few seconds.
The experience gave the the man nightmares for weeks after, who said, "I tried to push it (to) the back of my head and think 'that was freaky, it just can't be real'. I just couldn't get it out of my mind. I was having trouble sleeping at night."
The witness said he had no interest or beliefs in such phenomena before his run-in and was concerned about what friends and family would think of him if he discussed the encounter. He said his wife believes that something happened to Gary on that November day.
Gary said that it just so happened that his dash cam was being serviced that day and that he was frightened in the moment and did not think to grab a camera and take a picture.
The witness has mixed emotions about the prospect of a repeat encounter. Although he'd like to have another chance to snap a picture and prove to his friends that it really happened, he feels the odds of a second encounter are against him. He's gathered the nerve to drive on Beechmont Road, where it happened only one time since his encounter.
Local investigators have been researching sightings of "Yowies," also called "big and small hairies" for decades across Australia.