Alabama Police Chief's Photo of Alleged Alien Published Around the Globe (1973)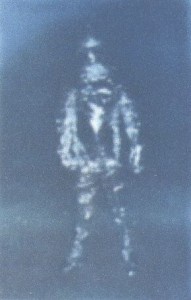 Police Chief Greenhaw's photo of creature.
During a UFO flap across the southern U.S. in October  1973, Jeff Greenhaw, the 23-year-old police chief of Falkville, Ala., said he encountered a strange being – and produced a photograph to prove it.
Greenhaw told The Associated Press that on the night of Oct. 17, 1973 – just six days after the now-famous UFO abduction case in Pascagoula, Miss. – he was investigating a call from a woman who claimed a spaceship had landed in a nearby pasture.  Greenhaw said he didn't find a UFO, but did come across a creature dressed in what appeared to be a space suit.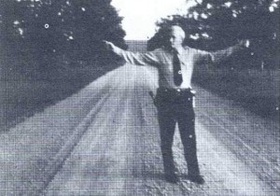 "He was standing there in the middle of the road," Greenhaw told the AP. "I got out of my patrol car and said, 'Howdy, stranger,' but he didn't say a word."
Greenhaw grabbed a Polaroid camera from his police cruiser and snapped several photographs, then turned on his vehicle's flashing red and blue lights. At that point, he said, the being "started running faster than any human I ever saw." Greenhaw pursued in his patrol car, but said the rough terrain prevented him from catching up with the fleet-footed stranger.
A blurry, inconclusive photo of what appears to be a humanoid figure in a metallic space suit – or wrapped in aluminum foil – was printed in newspapers across the world in the days that followed.
In the weeks that followed, Greenhaw's life turned upside down.  He was ridiculed in the community, his trailer home suspiciously burned to the ground and within a month the town council fired Greenhaw from his police chief's position.
While the case has been the source of much speculation over the years, little has been definitively established.  One popular Internet rumor, backed by anonymous bloggers who claim to know the individuals involved, suggests that the "tin-foil alien" was actually a speedy high school kid and the hoax was perpetrated by certain locals who wanted Greenhaw out as police chief.  If that was the case, they certainly got their wish.