UFO group brings display of mysterious crystal skull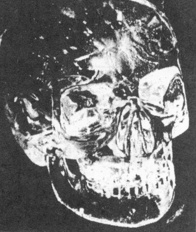 Crystal Skull
Anatomically, it has all the lumps and bumps of a human skull, yet it's made from crystal.
Its curators insist there is no known explanation for its existence and that scientists consider it an enigma to their well-ordered world.
Others claim the thing contains miraculous healing properties and telepathic information on the origins of mankind.
But whatever it is - or does - the Crystal Skull is back in town.
Weighing in at 11 pounds, 7 ounces, the glistening chunk of crystal will be on exhibit from 10 a.m. to 6 p.m. today through Sunday at the Scottsdale Camelview-Radisson Resort.
Scottsdale Mayor Herb Drinkwater was scheduled to kick off the exhibit today by extending an official welcome to the skull's owner and discoverer Anna Mitchell-Hodges, Toronto, Canada.
For a fee of $8, visitors may view the crystal oddity and talk to its 84-year old discoverer.
"She puts it on a table and lets people come up to it to see if they feel anything," said Brian Myers,
president of the Scottsdale-based International Center for UFO research, the show's sponsor. "A lot of people are into psychic speculation. Some of these people are really far out there. But Anna just lets people think what they want to think about it."
Mitchell-Hodges could not be reached for comment.
The skull, which was on display last January at the Scottsdale Center for The Arts, was unearthed in 1923 at an archeological dig site in Lubaantun, British Honduras (now Belize), Myer said.
Mitchell-Hodges was at the site with her archeologist, father, . Michael Mitchell-Hodges, when she spotted a gleaming object beneath the fallen ruins of an ancient Mayan temple, Myer explained.
"The native workers thought it was a god and that it had healing properties," he said. "(Anna's father) had it until his death, at which time, the skull was passed along to Anna."
Myer said the crystal is believed to be an ancient Indian artifact dating back to a civilization which existed prior to the days of the Mayan empire. He said that subsequent testing by Hewlett Packard Laboratories have revealed that the skull was made from one block of rare crystal.
"They don't know how it was made. It's one of the hardest substances known to man," he said. "You really can't carve on it.
Despite the fact that crystal cannot be carbon dated, Myer said the relic is from 12,000 to 30,000 years old.
Dr. James Schoenwetter, professor of archeology at Arizona State University, said the skull is far from an enigma. He first saw a similar crystal skull exhibited at the National Museum of Anthropology in Mexico City. About six such artifacts have been found. But, he said, the skull probably dates back to pre-Aztec times, about 800 years ago, not the 12,000 years some suggest.
"I do have some personal doubt that such artistic skill existed among people 12,000 years ago. This is a block of rock crystal that has been grounded into shape, which is a particularly challenging piece of work because crystal is very brittle." Schoenwetter said. "It does need to be grounded and polished and sculpted very carefully."
In addition to the display, the exhibition will include a Meditation for Peace in the presence of the skull on Wednesday, Jan. 20.