Ancient Find Proof Pakehas Before Maoris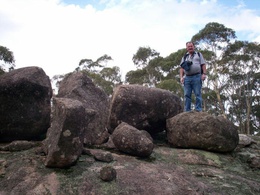 Rex Gilroy 2007
A long-lost, local Stonehenge has been discovered in the Far North by an Australian naturalist who says it proves Europeans lived here before the Maoris.
But Rex Gilroy won't reveal exactly where it is.
"Because, sure as eggs vandals will get to it and desecrate it before it can be protected, " he said.
The outspoken Australian, whose views have been slammed by established anthropologists, told Truth of the Kiwi Stonehenge in an exclusive interview this week.
"It's there all right," said Gilroy from his Sydney home.
'I've seen it and I've got the photos in my camera to prove it."
He said the stone circle is about 13 metres (about 40 ft) across and the stones are between three and four feet tall.
He said it was probably a sundial of some sort.
Gilroy said it has been proved that a pale-skinned race inhabited much of the Pacific before the Maori came to New Zealand.
During his just-ended, two-week New Zealand tour Gilroy said he also photographed "Middle East-style' carvings in the Bay of Plenty.
Again he would not reveal their location for fear of vandalism.
However, be said he would post photos of the carvings on the rock circle to Truth.
Among other things Gilroy investigated on his lightning mystery-hunting tour included the Scrub Moa of Fiordland ("there is a slight chance there may be some still there") and the Taupo Monster.
He said he took a photograph of something "very large" just below the surface of Lake Taupo.
A local professor claimed it was Just a large Rainbow Trout," said Gilroy. "But if it was it has to be the biggest fish story of them all.
Reports over the years claim a water monster, similar in appearance to a small Loch Ness monster, has been seen in the lake.
Gilroy has made a life-long study of animals people claim are extinct.
He said he believes he now has definite proof that the famed - but never verified - Australian panther really exists.
Gilroy said he will be back to New Zealand to complete his investigations "as soon as I can raise enough money - probably in about two years."
His claims that Europeans preceded the Maoris have met with angry responses from Maori luminaries.
Notable among them is Dr Ranginui Walker, chairman of the Auckland District Maori Council, whose attack has been supported by leading Wellington archaeologist Jim McKinlay.